Ecstatic Dance Dj / Club Dj / Worldmusic Dj
From a club Dj to an Ecstatic Dance Dj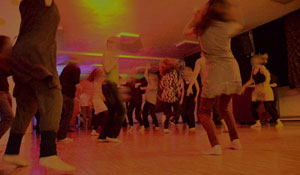 Landegaard is now playing music for 30 years. First performing club gigs all around the area of Stuttgart, located in south western Germany. Later moved to Hamburg and Berlin, playing there a couple of years. Now located in Munich.
The beginning of my dj era was with club music like deep house, downbeat, nu-jazz, drum+bass. It was the thrilling time of the early nineties, when electronic music was on the way becoming leading item in the clubscene.


From club sounds to ethnic, cultural and tribal sounds
Later Landegaard improved his library with ethnic, cultural, tribal and psychedelic sounds combined with electronic elements. This was the time of a new consciousness in the dance theatre. It was about Ecstatic Dance for dancers with higher consciousness. It was about understanding the dance as a ritual. It was about using the dance as a meditation. Mostly mature characters visit Ecstatic Dance Events to get into their very own nature of being and moving. Still this trend is active, maybe more than ever before.

What is the challenge / benchmark for a Dj?
The biggest challenge for Landegaard as a Worldmusic Dj or so called Ecstatic Dance Music Dj is to deliver a whole universe of exotic and awesome music with the goal that people never stop dancing.
The quality of the selected tracks has to be top class! Furthermore very important is the order of the tracks. It is about to deliver a kind of a "wave". Beginning with flowing elements, getting harding with a clear beat and release the tension in the chaotic, fast and tribal part. After that you can go on with melodic elements und lead into the silence at the end. Last but not least - the quality of the soundsystem is also a big item.
All these things make the dancer addicted to that exotic world of sound. If he is ready to give up being in the mind, he can step out of duality. Step into ONENESS by dancing.
I use to say: If this is happening I have done a good job.

This Dj Set is a typical example for Ecstatic Dance Music or the so called wave.